The Ultimate Guide To Gift Card Marketing For Contractors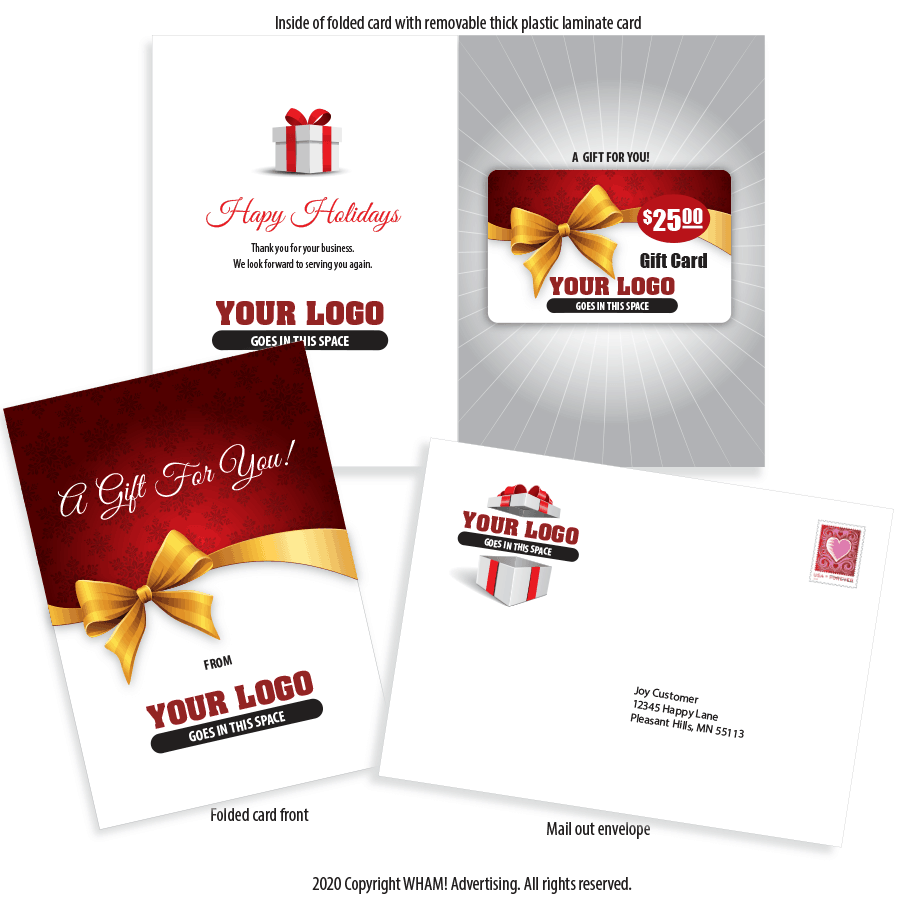 What is gift card marketing?
We're all familiar with paying for purchases with plastic credit or debit cards. Gift cards are the same size and rigid, like credit cards. They fit in your wallet. Gift cards have a higher perceived value than paper coupons or digital email promotions and other promotional media. Gift cards give consumers the perception of having money to spend. This can make it easier for techs to sell upgrades and additional services. Gift card marketing is a tactic that can be used for a variety of objectives and strategies.
What are the key features and benefits?
Build brand awareness
Build loyalty with existing customers
Use to generate referrals and new customers at relatively low cost
Convert at a higher rate than simple coupons
Gift cards can be personalized with variable data printing
When is the best time to use them?
The most obvious times are holidays. Thanksgiving, Christmas, Valentine's Day, Mother's and Father's Day, 4th of July and other major holidays. These are times gifts are exchanged, given and anticipated. Sending a gift card on a customer's birthday will certainly get you noticed and appreciated. Including a gift card with a thank you note expresses your appreciation for your customer's business. Any of these situations can be great time to use gift card marketing.
If you purchase a company, gift card marketing can be a valuable part of your communications plan to the new customers you'll be gaining. You'll be sending these new customers letters, emails and more announcing the news and assuring them you'll take care of their needs. Sending these new customers a gift card will impress them and make them more comfortable calling you to experience your service.
You don't need a special occasion to distribute gift cards. Many companies print large quantities and hand them out freely to customers, at events, home shows, after appointments and more. Acquiring new customers or increasing sales tickets can be achieved by using this tactic.
Use gift cards as part of your cause or community marketing
Giving away gift cards to charitable organizations and at local community events is a great way to show your support for important local causes. Plus, you'll gain brand awareness and goodwill in your market area. They're easy items to give away as a prize or as an auction item. Share your participation in these events on social media, emails and other communications to deliver the message to a wider audience.
Here's a short list of ways to get your gift cards distributed.
Silent auctions
Give-aways
Online give-aways
Raffles
This marketing strategy is an affordable way to introduce new customers to your company or show current customers you're engaged in the community. It's a win for the charitable or community organization, a win for the gift card holder and a win for your business!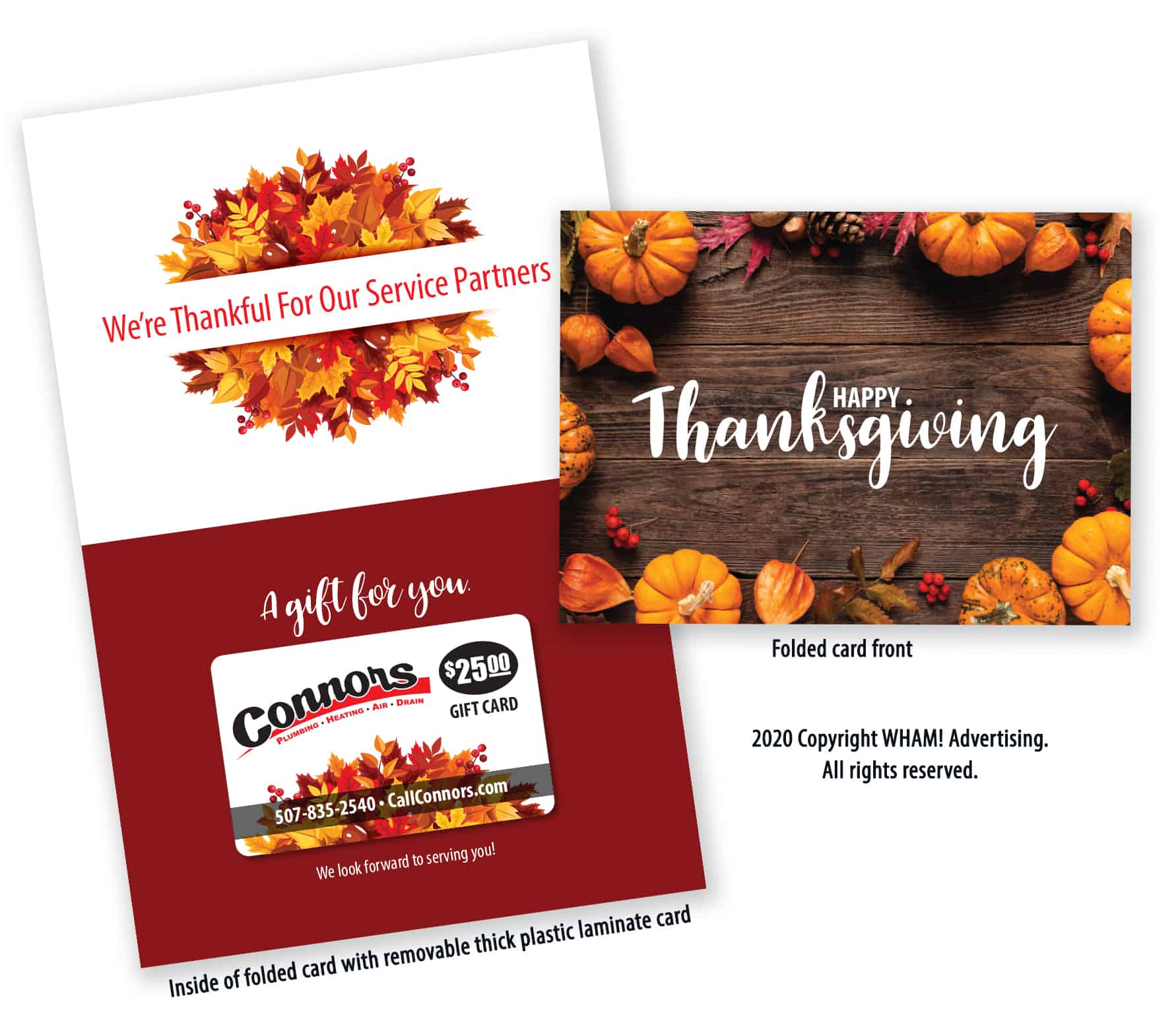 All concepts and designs are copyright of WHAM! Advertising 2020. All rights reserved.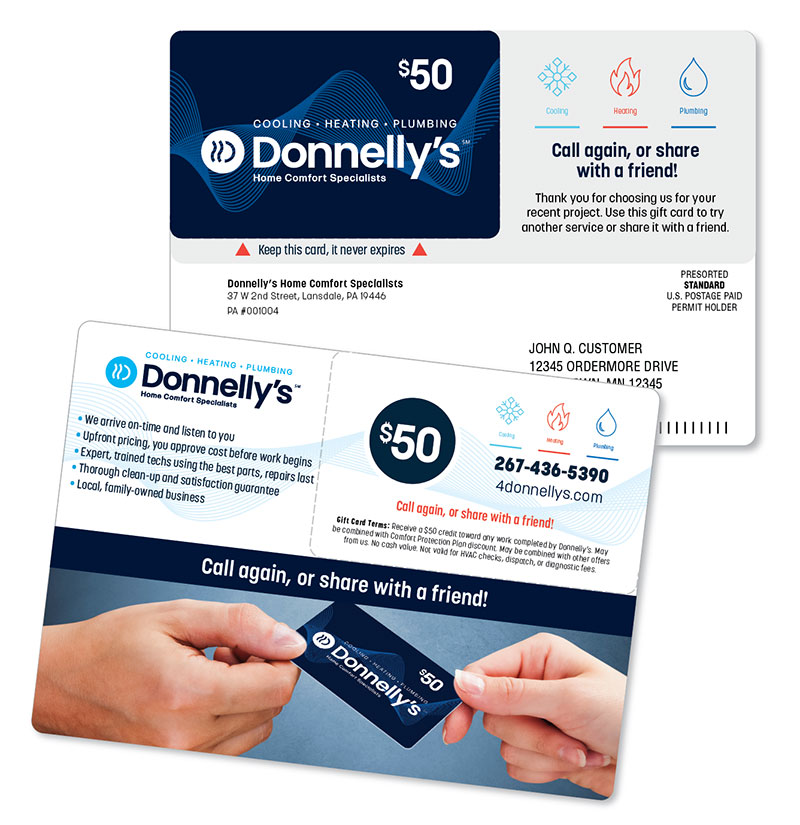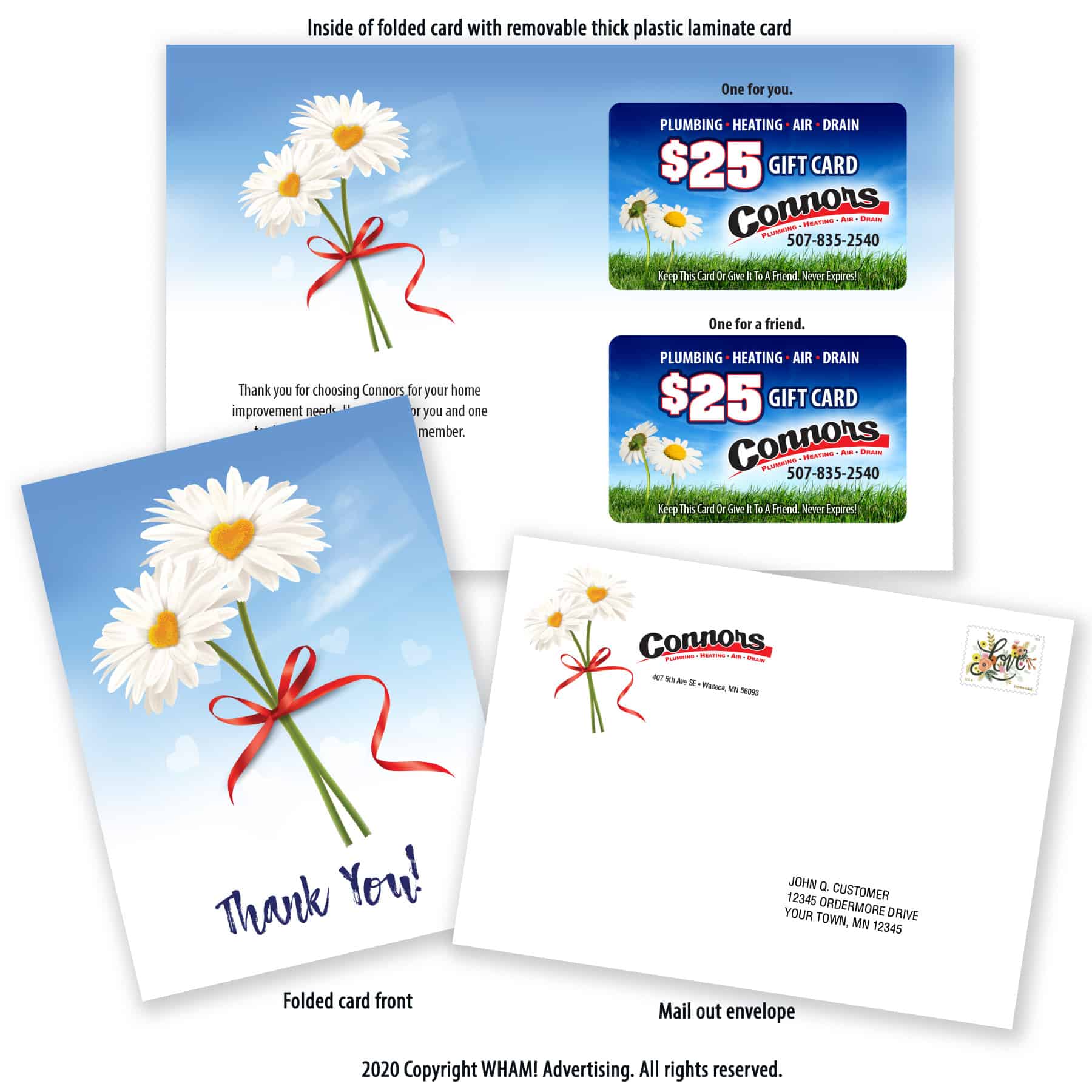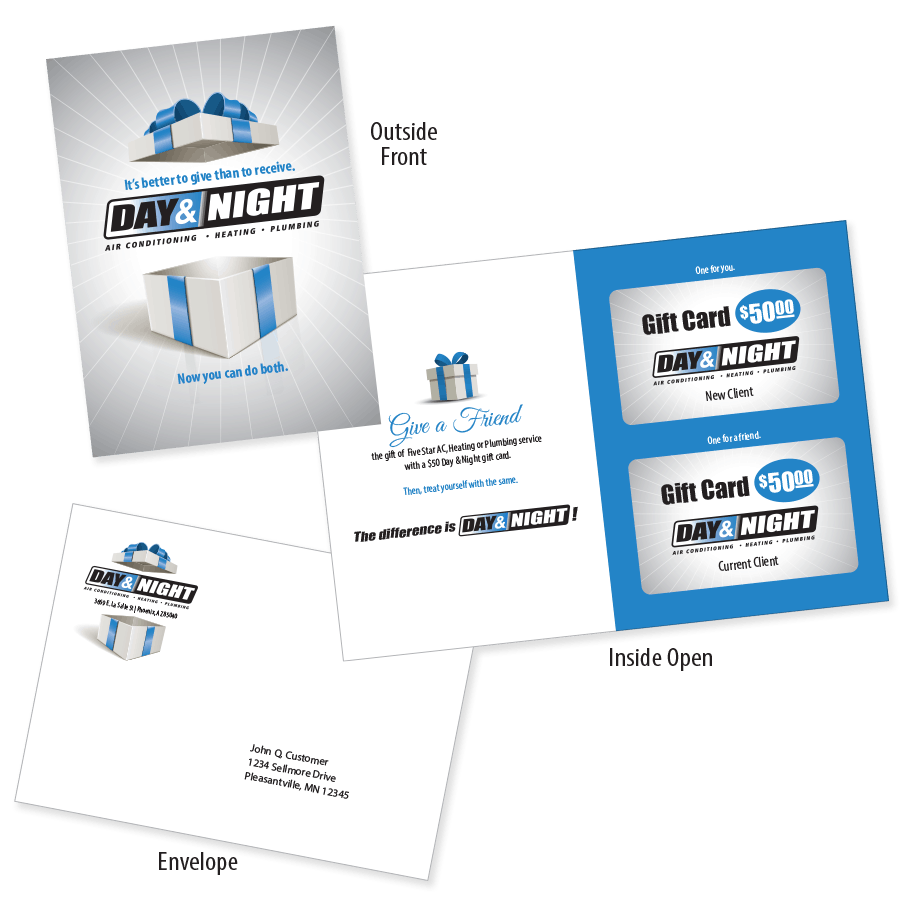 Make it shareable, get low cost new customer acquisition
In the sample project shown above, we included a second gift card to share with a friend. People enjoy being helpful to friends. Include two cards in your gift card mailings, one for your customer and one for them to share with a friend. Or, tell your gift card recipients to share the gift card if they can't use it. You're in the business of being helpful. Being part of the process of customers referring you AND passing on a gift card is very positive situation for your company.
Gift card design should reinforce and build your premium brand
Gift card marketing will be more expensive than some other types of marketing to produce; it's a premium product. A typical mailing includes an envelope, an insert folded card and a two sided plastic gift card that's attached to the insert that the recipient can easily remove and keep. Your goal is to make this on-brand and "keepable"- something people will think twice about throwing out with the rest of the mail.
Receiving a gift card is not something that happens to people every day (unlike postcards, coupon packs, emails, social promotions and more). Have your package designed to convey a premium look. If you look at the design on credit cards, some use lenticular images, die cuts, foil, metallics and other specialty printing techniques. They stand out, they look important, high end, and special.
Personalization is a big trend in many marketing mediums. Some of our clients have opted to have the recipient's name printed directly on their gift card. It's a wonderful way to tell them "this is just for you." The more special you make your gift card, the harder it will be for people to throw away and the more they will appreciate your effort.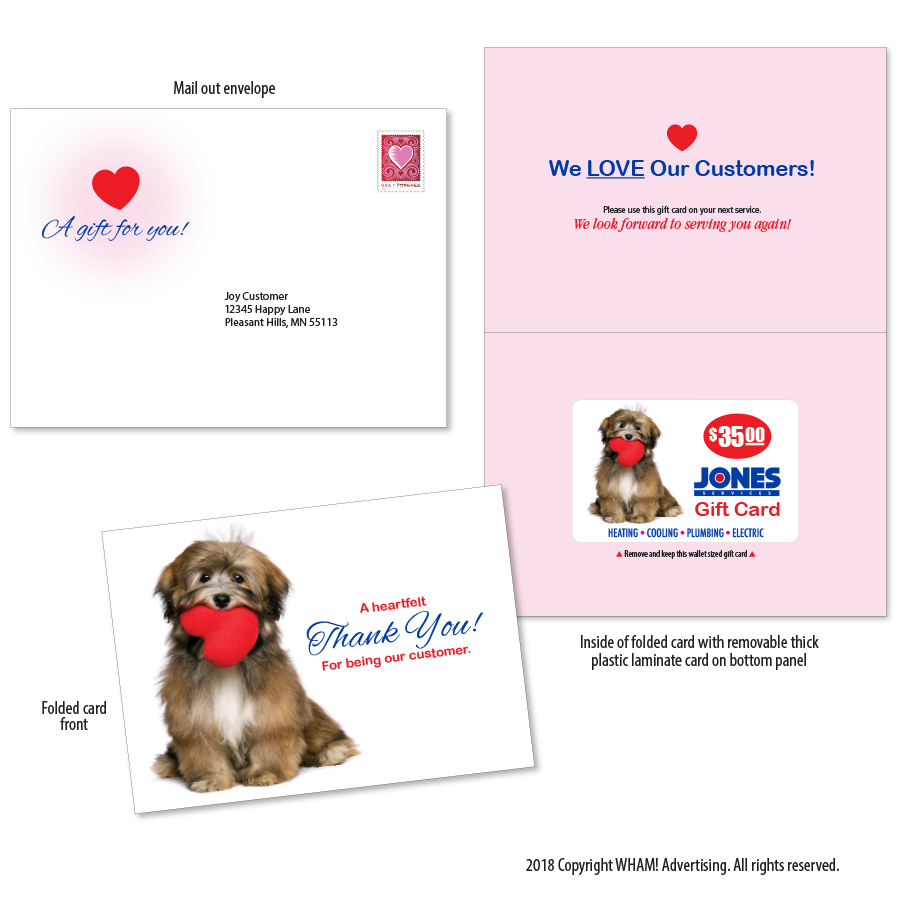 Gift card delivery vehicles
There are many ways, shapes and forms you can use to get your gift cards in the hands of existing customers and prospects. In the sample shown above, the company wanted to say thank you and we love you for being our customer. It was used as a Valentine's Day mailer. It's simple, it's well designed and uses engaging imagery.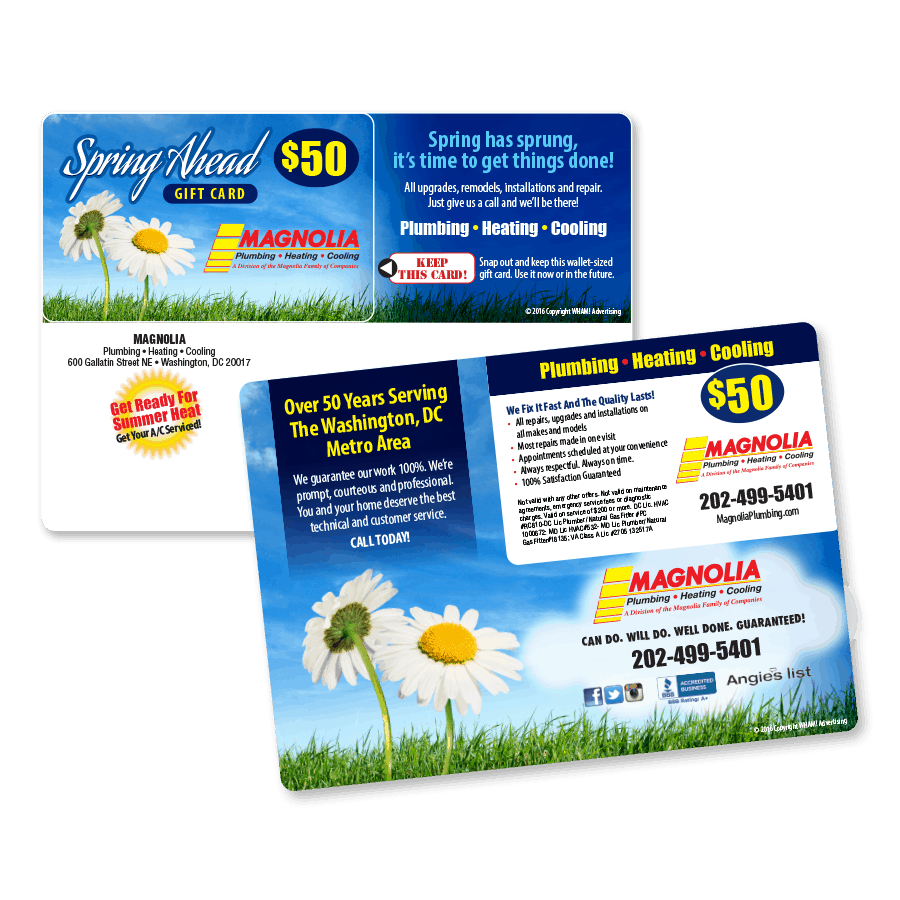 The sample above is more like a postcard, except that the entire piece is very rigid like a plastic credit card. The gift card "snaps" out of the piece for the recipient to keep. Most of the mail people receive is printed paper. These are plastic laminated pieces. They stand out from the rest of the mail people normally receive, that's what you want – to stand out!
CONCLUSION
Gift card marketing is appropriate for many situations and objectives. Sometimes marketers get stuck in the mindset that the cheapest alternative is the best alternative. That mindset can limit the impact of your efforts and results.
Your existing, repeat customers are gold and you should treat them as such. It's a relationship that should be fostered and delivering a premium, unique gift card offer will make them feel special.
The cost of acquiring new customers is high and will continue to rise. Gift card marketing can be very affordable when you compare it to other mediums. WHAM! Advertising has produced gift card campaigns for many contractors. You can use your own printer / mail house or we can get you a quote from a printer we've used for many of these projects. Show your existing customers some love and impress prospects with a premium marketing campaign.
Call us: 651-639-1947