Home Care With A FlairNewsletter Program From Nexstar And WHAM! Advertising.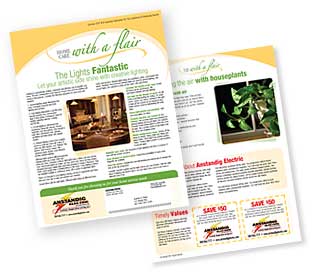 A consistently published newsletter is a great way to keep your company's name in front of existing customers and prospects. Home Care With A Flair was developed to deliver engaging content and has beautiful visual design so consumers are drawn to it.
The Home Care With A Flair newsletter is available in 2 and 4 page versions. Standard elements are customizable by you through a web based ordering interface. Once your order has been initiated you will be able to review a timeline, see completed tasks, communicate with us and review proofs via the WHAM! Advertising website.
Introduction | Content | Articles | Get To Know Us & Values | Ordering Process | Setup & Production Fees
NOTE: This product is only available to Nexstar Network members.