Electrician Revitalizes Branding With Logo Update
Effective branding requires words and images to work together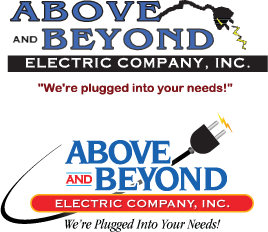 Communication is TOUGH! Words and images can be vague and can be misunderstood, not something you want happening with your brand. Your brand is typically a combination of words and text. The message of the words and text need to be supportive and build on each other. Above and Beyond Electrical company already had a great name. The visual execution of their brand just was not working.
From down and out…to ABOVE AND BEYOND!
The original logo shown at the top lacked color and positive energy. The goal was to use the existing elements and bring the words and imagery together to form a stronger brand mark. The equity in the name was retained and the overall image of the company was enhanced by working with the image of the brands visual representation.
Creating a strong brand for your contracting business is important
Your brand is your identity, it's how people first get to know your company. You'll spend thousands and thousands of dollars on marketing vehicles that portray your brand over time. Not getting it right is NOT an option.
WHAM! Advertising is chosen by plumbers, HVAC companys and electricians across the country to build strong, memorable brands, call us to start today, 651-639-1947